Stretch Marks Removal in Delhi by Laser Technique, Best offers
Stretch Marks Removal in Delhi best service, expert advice
Stretch marks removal in Delhi, removal of stretch marks by laser therapy is the best way to overcome form it. Stretch marks are long, narrow stripes that occur by tearing of the dermis when the skin is stretched too quickly due to Pregnancy, puberty, bodybuilding and rapid weight gain. It may also influence hormone replacement therapy. Stretch marks are not harmful to your health but it looks pathetic and you probably wish they should go away.
If you are tired of trying home remedies and another process to remove these stretch marks and not getting any results yet, then you should go for the laser stretch marks removal in Delhi, it will remove all your stripes and make your body marks free.
Laser Stretch Marks Removal:
Finally, there is a worth considering treatment for stretch marks that gives you the clear, smooth, touchable skin you've been dreaming of. Laser stretch mark reduction is a non-surgical procedure that uses pulses of fractional laser light to break down stretch marks and improve the appearance of your skin and make your skin marks free.
In just a few simple steps, redness can be reduced, stretch marks can be smoothed, and your skin can be ready to bare.
How does it work?
Your doctor uses a fractional laser from the company that invented and patented micro-fractional laser technology. Pulses of fractional laser light are used to break down stretch marks, triggering new tissue production at the site and helping to improve stretch mark color. The new collagen can leave the stretch mark smoother in texture and reduce the appearance of the stretch mark on your skin.
Advantages:
Speedy therapy: It's a quick and easy treatment that typically takes 30 minutes, depending on the area of the treatment, yet it can deliver superior.
Long-lasting results: It's ideal for all stretch marks, no matter what caused them. Best of all, there is typically no downtime with the treatment it gives you long-lasting results.
Appropriate for any skin type: Laser stretch mark therapy is appropriate for any skin type like very light and very dark skin. Your doctor will discuss with you whether you are a good candidate for this treatment or not.
Treatment sessions: Laser stretch mark treatments are comfortable and cost-effective and fast, you just need three to five sessions for the beautiful and smooth skin.
Smoother better-looking skin:  After completing the sessions you will see drastic changes in your skin it looks smoother and better appearance.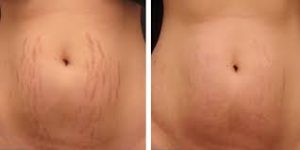 Recovery:
After having laser stretch mark removal, the affected area will be red and tender. This is because layers of scarred skin have been removed and new skin is being grown.
Blistering and other symptoms typical of a burn injury may be present, but these are not permanent.
Most patients heal from a treatment within a few days, but healing has been known to take as long as a few weeks in certain cases that depend on the candidate type.
Risks:
There is no medical procedure that doesn't have any risk the same as laser stretch mark removal is not completely without risk. Because the laser has the ability to ablate the skin, it is possible that a mishandled laser could cause some superficial tissue damage that can create a problem because of this you should choose your cosmetic dermatologist carefully for that you should go for stretch marks removal in Delhi. There is always a risk that severely entrenched stretch marks may not be completely removable with laser treatment. There is also the risk of blistering and other negative reactions but these complications are temporary and not life-threatening.